Launch your business in style
DigitOnTheCloud is a sophisticated commercial application for modern day SOHO market, allowing monitoring of assets and liabilities, inventory stock availability, customer remittances and supplier payments and in general the daily life of a modern company in the world of internet.
The Development technology of DigitOnTheCloud strong> allows platform operation without dependence on computing resources, mobile devices and desktop computers, while our dedicated hosting environment ensures uninterrupted worldwide operation for every company that operates 24/7.
DigitOnTheCloud strong> brings the most recent Software / Commercial application strong> support for trading, finance and business management of a SOHO company .
Powerful Features, you'll love it!
Enough Said… DO your own testing and launch your free 30 days account today without any hidden cost. Do more with your business…
DigitOnTheCloud advantages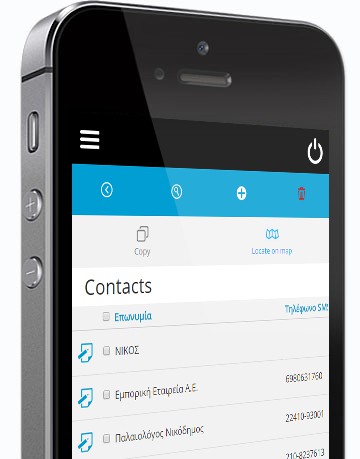 It is pretty straight forward:A business software you can work with.
We added characteristics and functionality improving your user experience and exploiting the best futures of the most modern Operating Platforms:
Google Maps, SMS, Email, PDF invoicing,
Reminders, Adaptive UI, Google Charts, Dynamic Grids,
and other web technologies in your hands!
Starting at 14€/month
Why your Website will Love Our Platform
Every technology in one platform!
Transform your business software into an ecosystem accessing information like trading parties, items and services, pricelists, payoff due dates, pending orders, web site, B2B & eshop, News Feeds, Sliders , Google Maps.
Domain name on your own, yoour own creds, your own platform

It's easy to use but Awesome
Don't buy new equipment
Its fast, its lightweight, its agile and user friendly. We added all necessary tools to help you get results from day one, and power to help you adapt your future requirements no matter where you are.
Elasticity, its true
Have more requirements? DigitOnTheCloud can be adapted to suite your needs and follow any operating environment.
Affordable
Dont be overbudget ever again! Our pricing policy is competitive and fully scalable to fit your needs.
Pretty Sweet Right? Launch it Today!
Start your own business environment today without any financial obligation! It is free for 30 days, no credit cards or complex registration needed. You will be up and running in about 5 minutes!Business Software as it should have been.
Need more functionality?
Είμαστε η ιδανική επιλογή για την επιχείρησή σου!
Agile and expandable solution!This is what we developed so that your current or future requirements can be adopted successfully and the time you need them.
DigitOnTheCloud platform provides the option of creating additional fields and entities to comply with your operational logic!